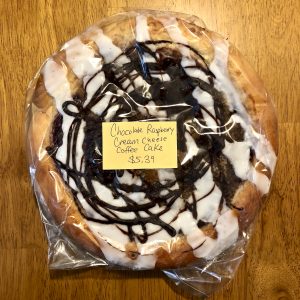 Before moving here I had only been here maybe three times and didn't get to experience the food as much as I would have liked to. Sure I tried a few things like Tom's Long Dog on the special New England bun and clam strips at the now defunct Webster's Fish Hook, but after moving here I got to try more of the food and was really surprised.
The Pioneer Valley I was happily surprised to find is quite a foodie paradise, much like San Francisco, except the lines are a lot shorter. OK, there isn't dungeness crab here, but I never really liked that and the crab here somehow is more acceptable to me, especially when it's made into crab cakes.
We pretty much have a hugely diverse food culture here that covers Asian, Hispanic, Jamaican, Indian, German, French, Italian, Middle Eastern,  I'll just stop there because you can pretty much cover any type of food here. [side note: I still haven't found any Filipino food and I do miss my lumpia.]
There is such a diversity in the food here that in the two years I've been here I haven't actually be able to try it all yet, but I've been happy with what I've had so far.
In San Francisco, I lived in the Sunset District which is on the Western side of the city and the population is about 60% Asian, which is really 60% Chinese. I could find three to four Chinese restaurants within a block there. Here the difference is, as an example, Downtown Florence where I live that has four pizza places in a block. The restaurants here cover all the bases in that they have Chinese and Japanese with a touch of Korean thrown in, so they're really more Asian restaurants. Their food at all that I've tried is amazingly good and I don't feel I'm missing anything. Places I've ordered from that I enjoy are Dynasty Gourmet, Westlake Gourmet, and Pho Boston.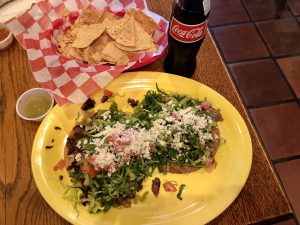 When I told people on some of the San Francisco Facebook boards that I was leaving San Francisco I got a response from a San Francisco Native, who for some reason her high school was Wellesley High School, Bye Felicia, good luck finding a burrito in Massachusetts. Sorry girl, found it the first day and it was just as good if not a little better since the meat was smoked brisket. There are several Mexican restaurants here and their food tends to move a bit away from the more traditional into more of a fusion style, but you can still get a really good burrito here. I actually was a bit taken when I ordered an al pastor burrito and thought it was weird that it was sweet. For some reason in San Francisco most of the places that serve al pastor use very little if any pineapple in them and here they're more traditional. I'll say that I am not receiving any pay back for this, but I'll mention Bueno Y Sano, La Veracruzana, El Comalito and Mission Cantina. There are others, but these are the ones I have eaten at and I have not been disappointed.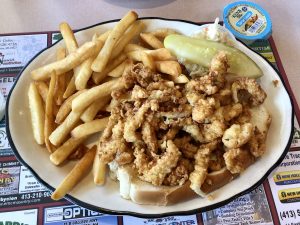 OK, let's talk about seafood. It's bloody well everywhere here. You can go to Stop and Shop or Big Y and find a good selection of seafood, but there are other places like Northshore Seafood for getting fresh seafood that doesn't stink and is surprising a different smell than many of the seafood stores in San Francisco. If you want your seafood cooked, pretty much every restaurant has some form if it's as simple as fish and chips or fried clams or scallops and of course we have roadside stands like Captain Jack's that are…wicked cool. We were down in Holyoke one day and were near Schermerhorns Seafood restaurant and decided to try it. Honestly, the $5.95 lunch special that I got of fish and chips along with a side of clam chowder was off the hook. I had clam chowder in San Francisco which is the same as here and no, it wasn't that red Manhattan clam chowder. San Francisco serves New England clam chowder, but for some reason Schermerhorns had me going back for more.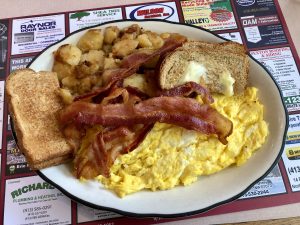 In general, the food here is pretty awesome and the portions are huge and inexpensive. I learned that if the price was over $10 it was going to be more than I would be able to eat.  Even going out for breakfast was a treat. It seems like if you go to a place a couple of times they'll remember you when you walk in the door.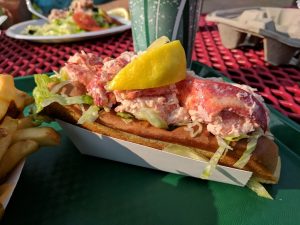 One of the things that is big here are the roadside stops. These are the burger places or clam shacks that are just by the side of the road that you pull up and grab your food and either eat in the car or they usually have a few picnic tables to sit and eat at. Our favorite stop is Scotti's in Leeds. It's a golf driving range, but the food there is always awesome. The only problem with a lot of the roadside stops is that they close down sometime around October and don't open up again until April. My daughter loves Scotti's and is always bummed when they're closed down for the season.
The food choices here are so numerous that I apologize for leaving out any that some of the local would want me to mention, but if you send me a message I'll probably mention them in their own article further down the road. Let's just say you won't get bored or go hungry here in Western Mass.